As beautiful as they are, there's a lot more to Lisbon and Porto besides what we can find inside the city limits - especially if you want to explore the nature around these special cities. Read more about our favourite short hiking escapes on a blog post from Daniel, on his favourite half-day hiking spots you can start from Porto or Lisbon.
There's a whole lot more to Lisbon and Porto besides what we can find inside the city limits. Going on a city break, both have plenty to offer and discover — but it comes a time during my trips, when I feel that what I need is a break from the city — ever got that feeling?! I mean, I love Porto. I was born here and lived in this city most of my life. I belong here… but also to the world, and there's a great deal of it right next door from where I am.
Just one and a half hours away from Porto — or Lisbon, for that matter — there's a hideaway, where one can mingle with nature for a change. Enough with cars, engines, horns and the feeling of always being late for something. Enough of that for a day. When was the last time you indulged yourself in these forgotten small pleasures, hiking your way into uncharted land?
WALKING THROUGH THE VINEYARDS IN PINHÃO, THE HEART OF THE DOURO VALLEY
The unique landscape of this region, a UNESCO world heritage site and the first wine region to be legally demarcated in the world, never fails to amaze those who come to visit — even the most accustomed to this area give in to the beauty of the cut out socalcos (terraced vineyards) throughout the hills on both sides of the river, and to the immersive silence that surrounds, and eventually conquers us all.
Some of the trails I'm most fond of around Pinhão are the Saint Cristóvão and the Quinta Nova trails. The first departs from the quaint village of Provesende, on the top of the hill and then down through one of the most beautiful trails in the region. On our way down we can see the Douro curves drawing the landscape in the distance, as Pinhão becomes closer by the step. The Quinta Nova trail, on the west side of Pinhão, departs from the wine estate which lends its name to the trail, takes us around its perimeter and amidst its vineyards - fully dedicated to the production of high-quality wines. This 6 km trail is adequate for all ages and fitness levels, having a total of 364 mts accumulated climb. It is also possible to shorten this hike, taking a shortcut inside Quinta Nova. The S. Cristóvão trail, on the other hand, is a one-way trail that can be done all the way down - from Provesende to Pinhão - or all the way up, if we go from Pinhão and wish to be challenged on a 525 mts accumulated climb through a 5,5 km trail.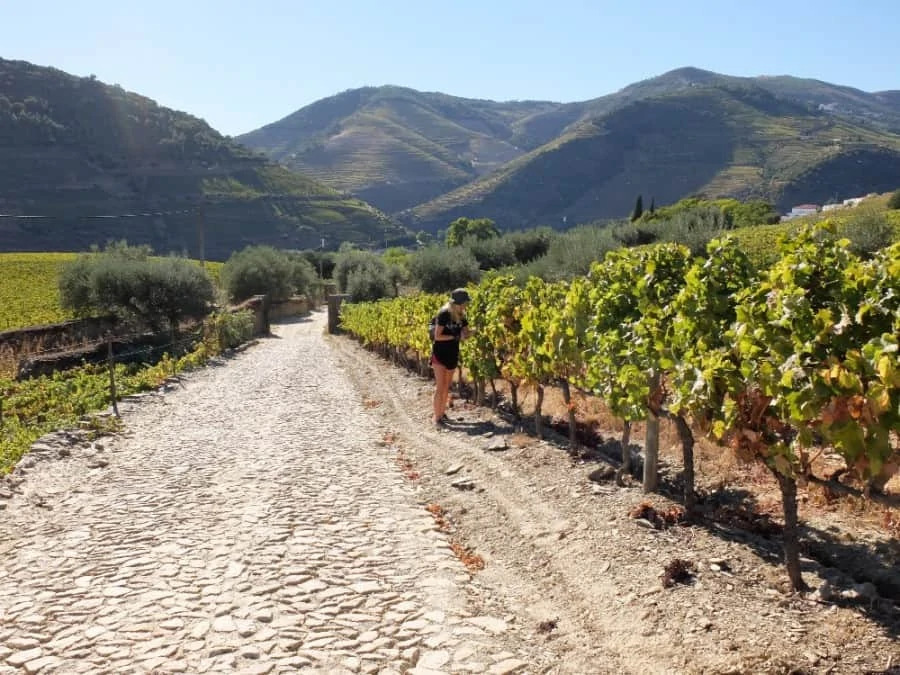 After the hike, I usually have lunch in one of the many charming restaurants in Pinhão, all serving
delicious dishes from Portuguese cuisine - one of the best-kept secrets of Portugal, for me! After lunch,
Pinhão offers a small yet precious stroll alongside the riverbank, where the Douro makes an elbow turn.
There is also a great diversity of wine estates, within a 10-minute walk, where one can go for a wine
tasting experience or even lunch – such as Quinta de La Rosa. I also enjoy taking some time to admire the tile panels on the small train station of Pinhão, sometimes while I wait there for the train that's gonna take me back to Porto. The train runs just alongside the Douro, on a privileged scenery for the first half an hour: I can never really get enough of this view, no matter how many times I take this trip!
After that, in Régua (its full name is Peso da Régua) where we have the Douro Museum, where all the history of the region is explained in a comprehensive and exciting way. It is, undoubtfully, a must-go experience to better understand how the vineyards evolved and what makes this region, the first demarcated wine region in the world, so unique!
No wonder this is one of the most requested tours by our customers — click here for more information on our daily hiking tours in Douro valley.
HIKING BY SINTRA OR ARRÁBIDA SIERRA
If you come to Lisbon, on the other hand… Sintra and Arrábida are the places to go! There's a magic there, that only nature could give to a setting. And that, you can't have in the city. Actually, they are both so unique that we couldn't choose one to show our clients, so we left that ungrateful task for you!
When you hike your way into the woods and town of Sintra, you'll know that you've arrived to a magical land: unsuspiciously, just beyond literally the next tree, there can be an imponent old manor, a glimpse of the Pena Palace (circa 1860, being built over and around the remains of a XVI century monastery), the Moorish castle (built between the VIII and IX centuries) or "just" another secluded romantic garden of this UNESCO world heritage region. The variety of beautiful historic buildings and attractions, combine to form a fantastic hiking destination. No wonder Sintra is considered the best day trip from Lisbon, a visit you must include in your holiday plans.
The trails we hike, are of different lengths and difficulty, and take us along the "must-see" places of Sintra. We either go for "Quintas trail", a short trail that takes us by the most emblematic Quintas – the traditional estates and manor/farm houses of the historical centre, a trail that ends yet at the Sintra National Palace. Or we go for a circular route of 4,5 km along the Moorish Castle and Pena Palace (both of which can be visited on the inside). Richard Strauss, revered this Palace and wrote about it, as follows:
Pena Palace (Palácio da Pena)
"Today is the happiest day of my life. I know Italy, Sicily, Greece and Egypt, and I have never, ever seen anything to match the Pena. It is the most beautiful thing I have ever seen. This is the true garden of Klingsor - and there, high up above, is the Castle of the Holy Grail".
Just "around the corner", why not paying a visit to the Atlantic Ocean, following the trails up until Cabo da Roca - the westernmost point of continental Portugal, as well as of continental Europe. Sintra is complete and astonishing destination for a one-day escape from the city. You might just want to stay there longer.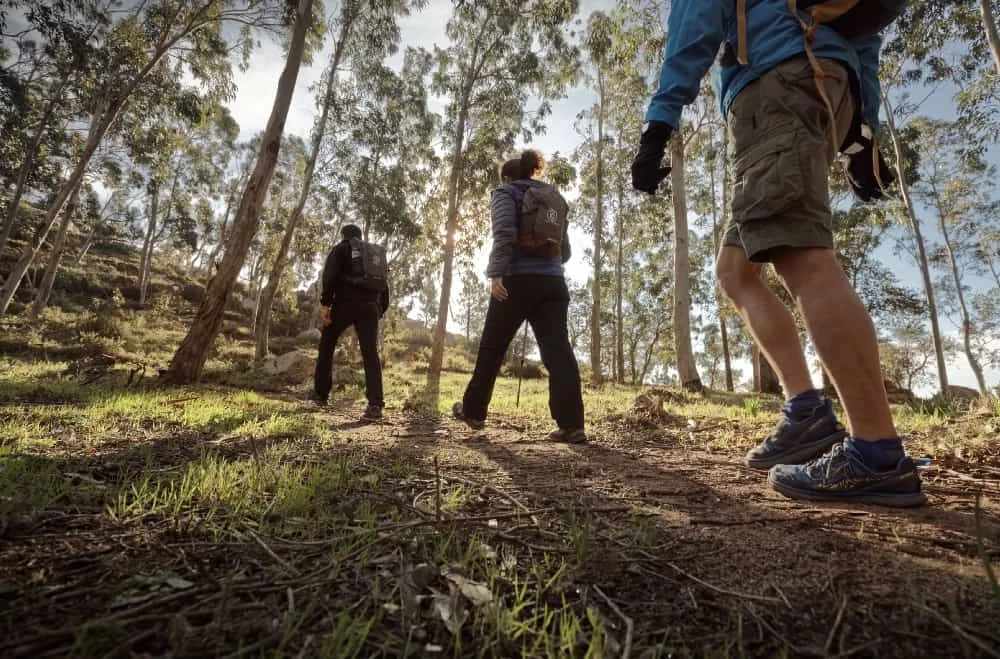 But what if your compass is pointing to another direction? Then you should definitely go to the untouched Arrábida sierra – where we'll take you along the paths with stunning oceanic views, near some secluded beaches and among over 1,400 plant species in this protected Natural Park. Among so many exceptional beaches, it's going to be hard choosing just one to visit: Albarquel, Figueirinha, Galápos and Galapinhos, to name just a few. Beautiful belvederes, privileged viewpoints over the Arrábida sierra and even a chapel hidden in the silence of a cave, bathed by the ocean, will make your hike unforgettable and give you the peace that only being completely immersed into nature can give.
On our way back, on the border of the Arrábida Natural Park we stop at Azeitão, a lovely town best-
known for its cheese, the famous Azeitão pies and some wine production estates.
But sometimes we only have time for a quick getaway, that's why we offer both a half-day and a full-day program for the Sintra and Arrábida natural parks
- written by Daniel, Live Love Hike guide
Also, if you are planning to discover Portugal on foot, check our quick guide about Walking in Portugal, where we talk about when to go and the best regions to go hiking in Portugal, among other insider tips.