Our walking tour calendar is live! Join a group tour in Portugal in 2022 and enjoy a free additional night in Lisbon or Porto!
Our 2022 walking tour calendar is now available! It's time to come back to hike with us - the first night is on us!
These are all small group tours ( limited to 8 participants) that you can choose to join on a guided group tour on the dates listed on our calendar below or on our walking tour calendar! All these tours are also available as a private experience, that can start on your preferred date as a self-guided ( for a minimum of 2 guests) or guided tour ( for a minimum of 4 guests).
Book one of our multi-day walking tours in Portugal in 2021 or 2022 and enjoy an additional free night in Lisbon or Porto, at the beginning or end of your tour*.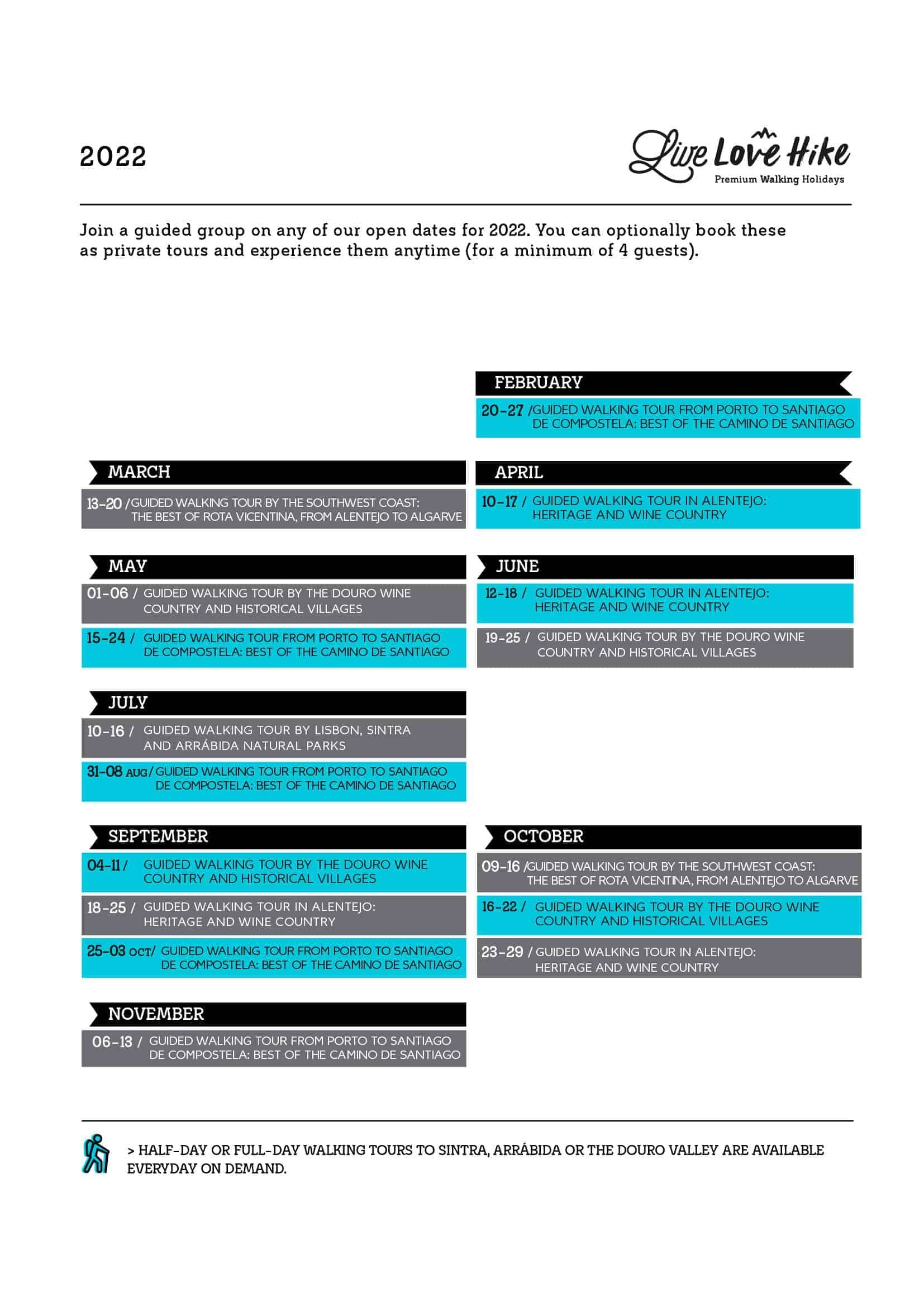 *Terms and conditions of "Book a Tour with Live Love Hike and Get 1 night free, in Lisbon or Porto"
This is a limited offer, subject to availability and must be validated by our travel consultants. It's valid for bookings of 7-day tours (or longer) booked from 19th June 2020 onwards and for tours taking place in 2021 or 2022 in Continental Portugal (does not apply to the Azores). Valid for standard catalogue tours (bespoke/custom tours might not apply) and subject to availability at the hotel on the chosen date. The offer consists of 1 free night in double/twin room with breakfast included, for each 2 guests (or for 1 guest travelling alone with the respective Single Supplement), in the following hotels:

- LISBON - HF Fénix Lisboa (4-star), HF Fénix Urban (4-star), HF Fénix Garden (3-star), HF Fénix Music (3-star);

- PORTO - HF Ipanema Park (5-star), HF Ipanema Porto (4-star), HF Fénix Porto (4-star).

This offer is only valid for new bookings with Live Love Hike, and it is not cumulative with other promotions, discounts or vouchers