Yes, we believe hiking is the best and safest way to travel the world. Still, we make it our job to keep you safe on our walking tours in Portugal, as we know that the only way to enjoy your vacations is while feeling safe.
While hiking is, in itself, considered a safe way to explore, we've established several measures to keep you safe on our walking tours in Portugal during these uncertain times: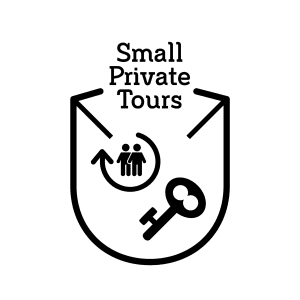 We run small group tours.
You can book your own private, self-guided or guided tour, or join our group tours, which are limited to eight guests each.
The scale of our tours is relatively small. You can book a private walking tour for your group, starting in whichever date you prefer, either as a self-guided experience (minimum of two guests) or a guided one (minimum of four guests) and make it your own. Also, if you prefer to join a group tour in our calendar and hike with other guests, we guarantee a maximum of eight guests per tour, for safety reasons and to offer the group a better guide to guest ratio, so you can get full service.

We follow strict safety and health procedures.
First aid certifications for all our guides, disinfection of gear, respiratory etiquette and social distancing measures
Live Love Hike operates under strict health and safety standards, and is a "Clean and Safe"stablishment, following protocols created by the Portuguese
National Tourism Board, "Turismo de Portugal". All our guides have First Aid certificates, we make sure to clean and disinfect all gear used on our tours before and after, hand out disinfectant, masks and other safety gear to our staff and guests during airport transfers or van transfer throughout the hike, and only book hotels, restaurants and other providers for your tour that follow the same "Clean and Safe" standards we do.  Click here to check our full health and safety policy.

We show you our favorite trails and pathways, so you can be in touch with nature, not large gatherings.
Hike in sparsely populated rural areas, await from the big cities.
Our walking tours are not held in big cities because, let's face it, cars can't go where hikers go. While out on a walking tour in Portugal with us, you'll be walking by a secret trail, a roman pathway or through charming woodlands, which means you'll avoid most agglomerations, staying in smaller hotels, sharing meals at smaller, handpicked restaurants.

We operate our tours using our favorite small, charm hotels, restaurants and hand-picked experiences that follow our safety procedures.
Enjoy authentic and safe local suppliers on all our tours
You'll not be joining the queue at the most sought out monuments: you'll be taken to the small gems that highlight the best of each region. We work with local partners in every region we operate tours in, from familiar, charming hotels to our favorite restaurants, and will introduce you to our friends, the local wine enthusiasts, bakers, pottery artists, farmers that will proudly let you in on their local secrets - all of them boast the same "Clean and Safe" standards as we do.

We offer flexible bookings and postponement options.
Postpone your tour free of charge until 30 days before the start date, no questions asked.
At Live Love Hike, you can postpone your tour to a future date up to 30 days of the starting date of your tour, with no extra costs and no questions asked. That way, you can make sure you enjoy your walking tour in Portugal whenever you feel safe to hike with us.

We give back to nature - the 1 Hike = 1 Tree pledge.
Live Love Hike plants 1 Tree per guest received on our tours
As explorers, we understand the blessing that is enjoying the great outdoors. And as a company, we are also aware that we must give back to nature and local communities to keep this relation sustainable, so that we can fully enjoy it. So, whenever you join one of our tours, you are planting an indigenous tree in Portugal, where it's needed the most. Alongside Portuguese ONG "Plantar
uma árvore", Live Love Hike plants one tree per guest that joins our tours, every year. We choose indigenous trees, and regions that have been most affected by fires or intense exploration, in an effort to help replenish the natural cycle. This helps offset our carbon footprint and makes our hikes even more enjoyable! In 2019, we have planted 400 trees in Sintra's Natural Park, to help replenish the Sierra, which was attacked by fires in the summer of 2018.
We make your safety our priority, so we can all have a great time doing what we love most - exploring the world, one foot at a time. So, whenever you are ready, know that we are prepared to host a Live Love and Safe Hike for you.
If you are planning to discover Portugal on foot, check our quick guide about Walking in Portugal, where we talk about when to go and the best regions to go hiking in Portugal.