Our 2023 group tour calendar is now live! Join us for a walking tour in Portugal and enjoy a 10% discount*!
It's time to start day dreaming of your next hiking holidays! Our 2023 group dates are live and ready to book - secure your spot until the 30/09/2022, and benefit from a limited, 10% discount on all our group tours!* Click to check our group tour calendar.
If you are looking to explore wine countries, check our our bike tour in the Douro valley, where you'll be able to hike by the terraced vineyards of this UNESCO world heritage site, or in the Alentejo, experiencing the laid back atmosphere of this gastronomical and cultural melting pot.
Or you can always hike by the Atlantic Ocean,  in the Portuguese Camino de Santiago - an epic pilgrimage across the Portuguese and Galician coast or in the Portuguese Southwest Coast, hiking from one secluded beach to another.
There are plenty of tours for all types of hikes. Join us and experience the transformative power of traveling on foot!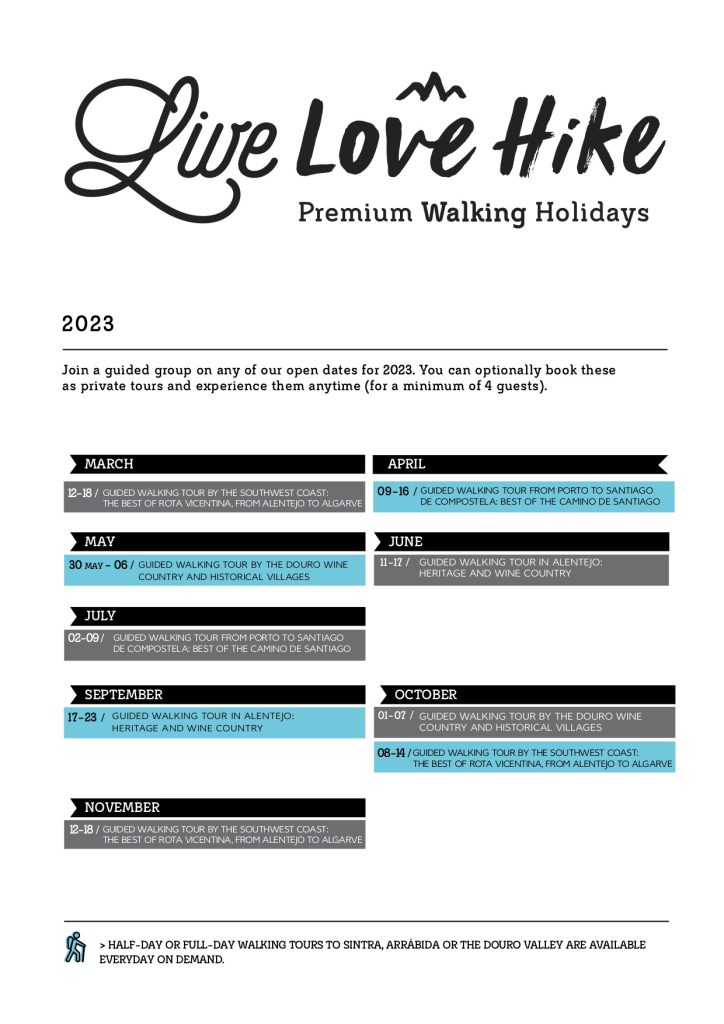 Contact our tour planners on the form for more information:
*Terms and conditions of "Book a 2023 group tour and enjoy a 10% discount"
This is a limited offer, subject to availability and must be validated by our travel consultants. It's valid only for bookings of our group tours listed our 2023 calendar - it does not apply to private guided or self-guided tours. This promotion is valid for all bookings concluded until the 30th of September 2022, and subject to availability at the hotel on the chosen date. The offer consists of a 10% discount on the base price per guest on all group tours, excluding all supplements ( high season, e-bike, upgrade to premium hotels and others).This offer is only valid for new bookings with Live Love Hike, and it is not cumulative with other promotions, discounts or vouchers.