Daniel, our resident guide on all of our hiking tours that take place in the North of Portugal like the Camino de Santiago or Douro valley, was born and raised in Porto, where he still lives and cheers for the local team, Futebol Clube do Porto. Here is his suggestion for a walking tour in Porto, that you can follow on your own to discover his favorite city ever in a day's walk (or two):
Porto, one of the oldest city centers in Europe, was settled in the 4th century during the Roman occupation when it was named Portus Cale, which originated the name of Portugal. It's the second largest city in the country and is also known as Oporto by some English-speaking countries. Home of the Port wine, this city has a lot for you to discover: from wine cellars to its remarkable Douro wines, secret gardens and ancient fountains, prized architecture and contemporary art galleries, humble yet splendid churches, a unique train station, cosmopolitan cafes and exquisite restaurants — the list goes on and on.
And then there are the people! You will normally recognize natives from Porto — a Portuense or tripeiro if you will — by their upfront manners, hospitability and frequent use of swears when speaking. Literally meaning "tripe eaters", legend tells that the origin of the nickname goes back to 1415 when the city helped the Portuguese King conquer Ceuta: besides helping build the ships and providing with men for the armada, the people of Porto offered all their good meat to the expeditionary forces, being left with little more than the tripes. The most traditional dish of the local cuisine, tripas à moda do Porto, naturally followed. As well as their nickname.
Next, I'll guide through Porto's heart and soul, on a 12km (7.5 miles) long urban hike – with 142 mts (466 ft) of accumulated climbs – in what I expect to be a thorough and fulfilling experience for you. Although this route can be done in a day's walk (3 to 6 hours), that will largely depend on how often you wish to stop: whether for visiting a monument, taking a picture, exploring an off-route alley that caught your eye or just for having lunch – it's natural that you'll end up stopping every now and then. So, if you believe that you'll want to explore more, get a closer look at some of the places in this post and take your time to get entangled into the city's tales… consider doing it in two days, just to be safe. But enough "talk", and let's start moving! Here's our suggestion for the day:
After a healthy breakfast, leave the hotel and head towards Jardim do Morro metro station — you can get there by metro (line D), cab or simply walking if you're staying close by. Once there, you'll go up a short but steep ramp until you get to Serra do Pilar Monastery (built in the XVI century), where you will find one of the most magnificent viewpoints over the city of Porto. From there you'll admire the Luiz I bridge connecting the city of Gaia (where you are now) and the winding river Douro meeting the Atlantic Ocean, just past that white bridge in the distance, to your left — that's where you're going!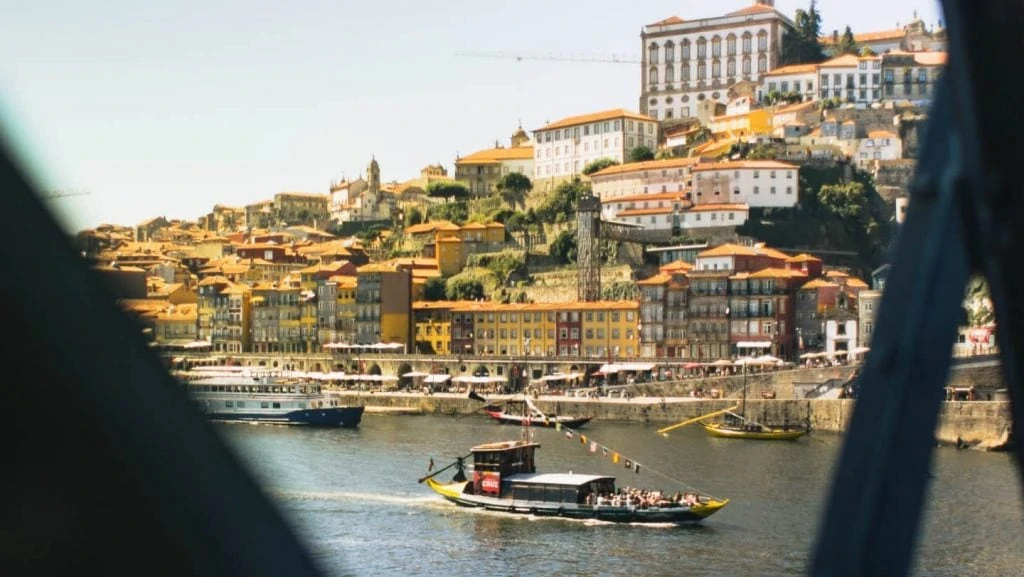 Go down the same ramp and cross the bridge back to Porto — if you've done this already then you can find your way down to the river and cross the bridge's lower tray instead. Once in Porto, head towards the São Bento train station, voted among the world's 10 most beautiful train stations. If you came through the upper tray, you saw the Fernandine walls (XIV century) on your right and shortly after crossing the bridge - on your left-hand side - Porto's cathedral, Sé (second half of XII century). On the other hand, if you used the lower tray, you probably saw some kids jumping into the river in exchange for alms or perhaps you got yourself distracted with all the buzz near the wine cellars, riverside restaurants and unforgettably unique views. From there you head up to the São Bento train station, one of the places you can't miss! Built between 1904 and 1916, it has a breathtaking lobby decorated with 551 m2 (5931 ft2) of hand-painted tiles depicting, among other pieces of Portugal's history, the conquer of Ceuta in 1415.
Next time you can get on a train and go visit the Douro valley! Not this time though! So, you get back on the street and head towards Praça da Liberdade and Avenida dos Aliados, just a minute away. At the top of this avenue, you'll see city hall — an imposing building with a granite façade and a chime clock tower, which began to be built in 1920. This part of the city will immerse you in its history, invite you to wander and make you lose track of time. As a reference, consider 1h to 1.30h from the viewpoint where you started – Jardim do Morro – up until here – Avenida dos Aliados. Afterwards, head towards Torre dos Clérigos.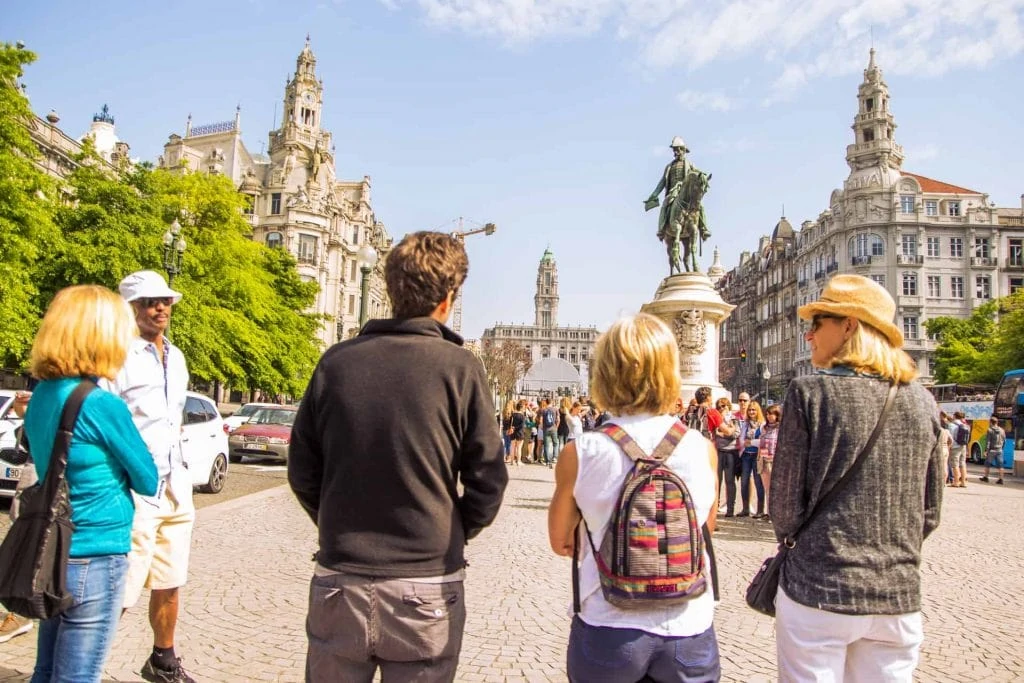 Welcome to the magical Clérigos Tower from XVIII century, one of our main landmarks, inaugurated in 1763, about 76 meters high and the most visited in Porto. The Church and Tower were designed by the Italian painter and architect Nicolau Nasoni. Interestingly, he was so committed to Porto that he worked on the tower and church for free! Strikingly, this masterpiece of a tower is the highest in Portugal, which was used for different purposes along its history. In the XIX century a mortar was fired from the tower to inform people that it was 12:00 noon, allowing merchants to break for lunch. It also served as an orientation mark for the vessels that reached the Douro river estuary. To get to the top you must climb 240 stone spiral staircases. From there, you can see the entire city, the Douro river and the Atlantic Ocean. An experience you shouldn't miss!
Opening Hours: Daily from 9:00 a.m. t 19:00 p.m. Tickets: 3 €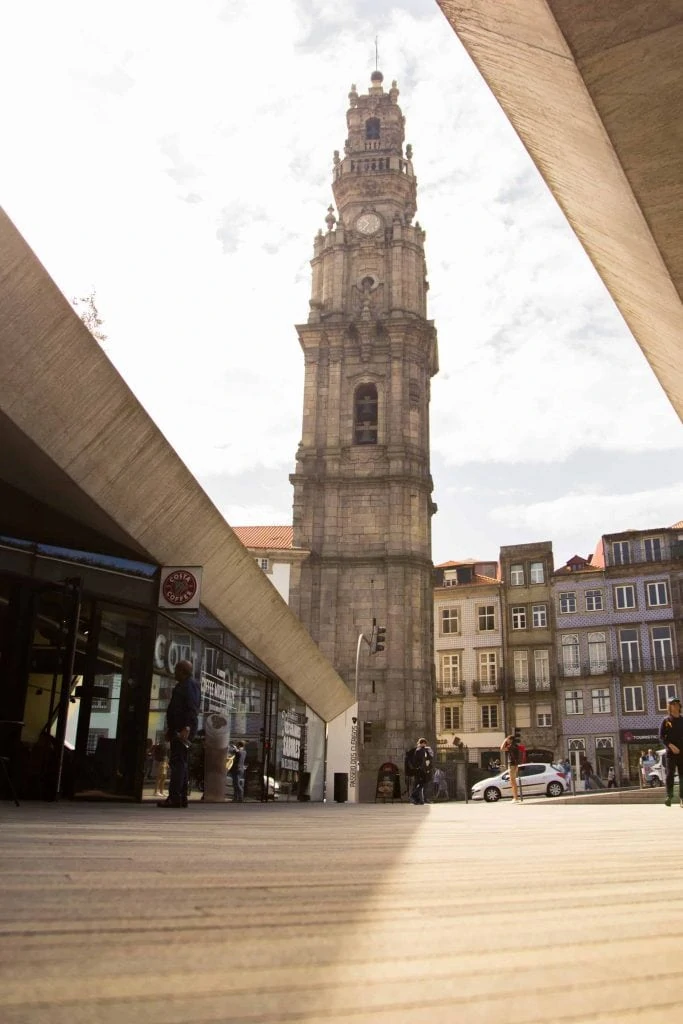 Now, you'll walk towards this pleasantly leafy park to your right: Cordoaria, set up in 1865, also known as "Jardim da Cordoaria"(meaning Garden of the Ropery). You'll find here dense vegetation; a lake area; paths and seating areas. Its official name is the Joao Chagas Garden, but locals commonly refer to it as the Cordoaria Garden. Designed by a German landscape gardener who also designed Crystal Palace Gardens (which you'll be visiting later on). In 2001, the garden was redesigned when Porto was designated European capital of culture. Fascinatingly, you have some serious vegetation here. Here you'll see the Araucaria (Bidwillii) which is the largest tree in Jardim da Cordoaria and one of the largest in Portugal, planted in 1868. Another huge tree is the Sequoia, considered a living fossil, since it comes from the Tertiary Period. It was planted in 1867.
Here you'll also find works by António Nobre and Ramalho Ortigão. Interestingly, you'll also see bronze and steel benches around the park, four curious sculptures by a Spanish sculptor, Juan Muñoz – whose work is called Thirteen Laughing at Each Other, as there are thirteen figures in total. The sculptures are utterly captivating to look at and of course, in any Portuguese park you are likely to also see a group of men sitting on a bench talking animatedly, playing cards and laughing. Surrounding Cordoaria you have the Portuguese Center of Photography and the historical Santo António Hospital. Running north from Cordoaria, you have romantic narrow lanes, that will lead you to one of Porto's hippest bar areas.
To be continued...