This is Daniel's second post about this urban hike in Porto - click here to view the first one.
So, we left you at Cordoaria on my first post! From there, you could go for a snack or local delicacy so I strongly recommend you try a pastel de nata (or just nata) at Manteigaria, in Rua dos Clérigos (Clérigos Street), a narrow quaint little street used only by pedestrians and occasionally the tram. Although the pastel de nata is original from Belém – Lisboa, at this shop you'll get a great taste of this traditional pastry. Also, pair your pastel de nata with a glass of Port wine, which is probably the best "marriage" between Porto and Lisbon!
Moving on, from Manteigaria you just need to climb the rest of Rua dos Clérigos, until you have the Cordoaria garden on your right, thus the Portuguese Centre of Photography on your left. The building where this Centre is now installed, was originally built in the XVI century as a jail, and later served as a court as well. On the corner of that building with the Rua S. Bento da Vitória – where you'll follow – make sure to take a couple to admire the ancient fountain of Porta do Olival. Going slightly down that street, you'll find on your right the São Bento da Vitória Monastery, which began being built in 1604, and went on until the end of the century. Then, just a few meters further down, there's the Vitória viewpoint, well worth a visit and a couple of minutes of your time to appreciate the magnificent views over the river Douro and the neighbouring city of Gaia.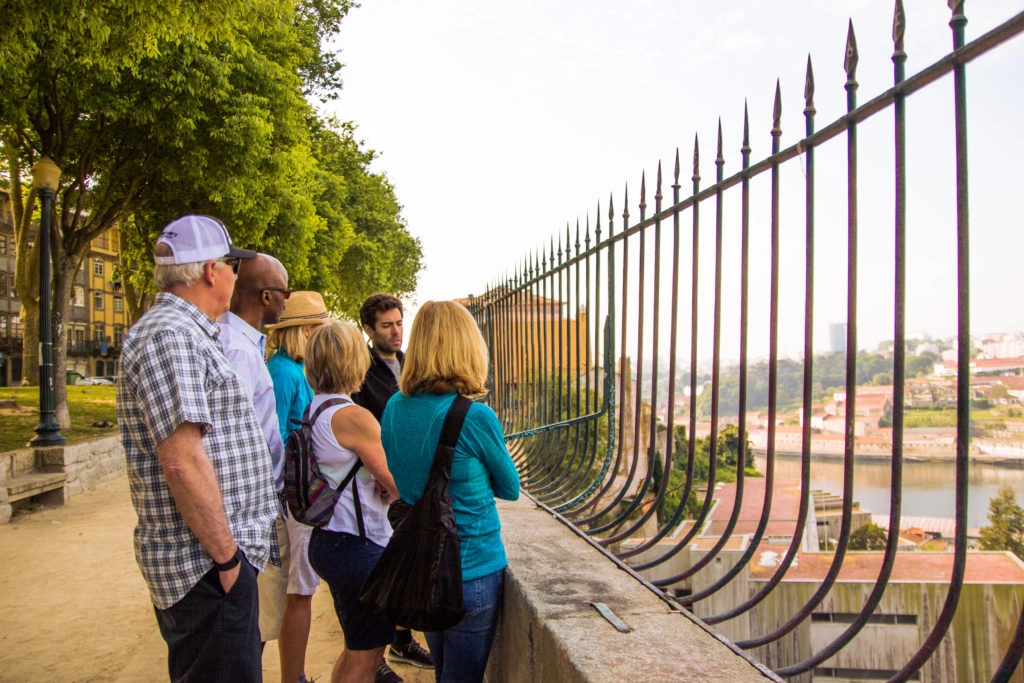 After the viewpoint you should go down all the way to the river and the old Customs House. In order to do this, just follow Rua da Vitória all the way down – through the middle of old stone houses – until you reach Rua das Taipas and it's late 18th century fountain. Climb just a few meters and you're at Passeio das Virtudes (Virtues), a great place to relax and have a beer or a glass of wine, with yet another fantastic view over the river Douro and, at the far end, the Arrábida bridge, after which lies the rivermouth and the Atlantic ocean – that's the way you're headed, so let's keep moving shall we?
On a dead-end street below Passeio das Virtudes, you'll find the fountain of Virtues, built in 1619. To its left you'll find a path, part of Porto's Routes of the Romantic, which will lead you to the riverside, close to the new Customs House, built in 1860, now turned into exhibitions and Congress Centre. From here, you "only" have 8 km left to go, until you reach your destination on the edge of Porto city limits – the She Changes and the Transparent building with all its cafes and terraces by the ocean.
From now on, your route is easy though: keep walking with the Douro river on your left-hand side until you reach the river mouth, and from there continue – with the Ocean this time, on your left-hand side – you can't go wrong.
As you continue walking, you'll see many signs with names of Port wine brands, on the other side of the river. Those are the wine cellars where the Port and other Douro wines rest and mature, before being bottled and shipped. It is a long-lasting tradition filled with intricate and delicious details, that just add up to the uniqueness of this region and its wines – I strongly recommend you pay a visit to any of these Port wine cellars when you have the opportunity. But on another day perhaps, as today you still have a long way to go.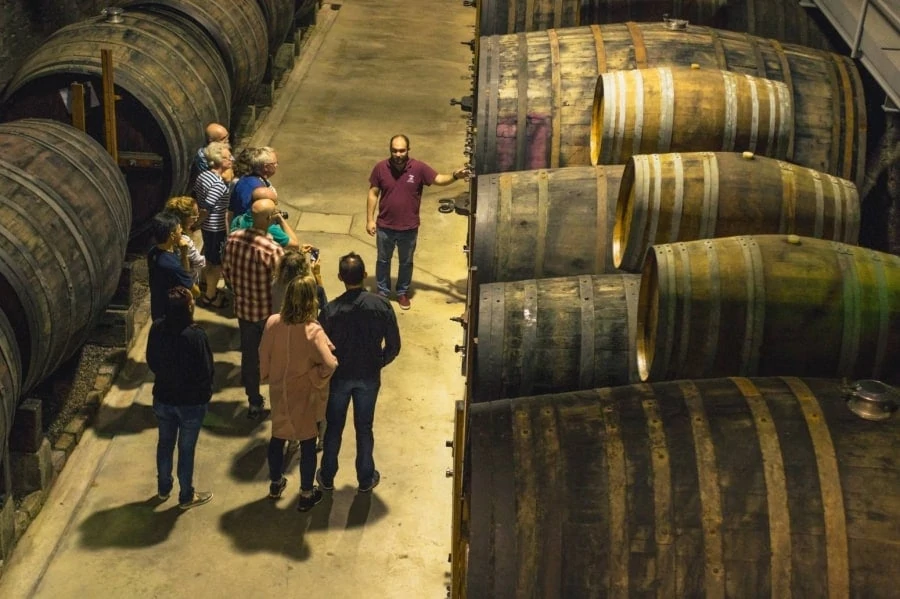 Shortly after the Customs House, you'll see a short section of road overpassing the river – alternatively, follow the original cobblestone road to its right. From here, I can't help but suggest you make a small detour and climb Rua da Restauração towards Palácio de Cristal (Cristal Palace) with its elegant Victorian gardens, rich flora and fauna, beautiful paths and stunning views over the river and its riverbanks – a mandatory place to visit if you want to relax and get off the road for a while. If you do go there, there's also a quicker route from Passeio das Virtudes, without going all the way down to the river and then back up – I'll leave this choice up to you. Next to Palácio de Cristal, make sure you pay a visit to the Romantic Museum of Macieirinha estate, and the exquisite restaurant next door.
Back on the riverside, and as an alternative, you may hop on Tram nr 1 and cut the next 4 kms of the route, turning your walk into a pleasant and picturesque ride on rails. This tram will take you all the way to Passeio Alegre, just on the corner of the river Douro with the Atlantic Ocean. Across this "landscaped 1800s garden, home to a Franciscan convent, lavish fountain & Art Nouveau-tiled restroom", and walking towards the ocean, you'll find a small granite lighthouse built in the XIX century. Under the palm trees, a large sidewalk and where your path continues – you have now arrived to Foz (literally meaning river mouth) and to your right, right away, the Fort of Saint John Baptist – a XVI century coastal fortress.
From now on you're in Foz, with its city beaches, calming ocean views and chic cafes, shops and restaurants. With just 3 km left, either on the large sidewalk or the boardwalk over the sand, it should be under an hour left in this Porto urban hike, but it's really up to you. In the meantime, I can't help but recommend that you pay a visit to Pub Bonaparte, a unique bar and café with its original decoration and ambiance. Moving on, on the end of this avenue there's a big roundabout and yet another fort – the Fort of Saint Francis Xavier, a "turreted 17th-century fort with cannons, sitting on a prominent rock overlooking the beach". A tripeiro calls it Castelo do Queijo, or Cheese Castle, something attributed to being erected on cheese-shaped rock.
The path will continue to take you close to the ocean, by the sand, and will now flow into the terraces of the cafés and restaurants in the Transparent building. Following inland, behind this building, there's a path that leads to Porto City Park - with its 83 hectares, 10 kms of paths and being the only European city park with a sea front.
And that's it! Hope you enjoyed my insights, and that you'll get to visit my hometown. If you do, I'm sure you'll fall in love with Porto as I do everyday.
See you on the trails!
Daniel
Also, if you are planning to discover Portugal on foot, check our quick guide about Walking in Portugal, where we talk about when to go and the best regions to go hiking in Portugal, among other insider tips.