We are very fortunate to have Gustavo Figueiredo as a photographer and a friend. Not only some of the beautiful pictures you see on our website were captured by him ( and all the pictures in this post too), but he is also a keen cyclist and hiking enthusiast. Gustavo lives nearby Sintra and, in this guest post, he shares with us one of his favorite hikes in the North side of the Sintra Sierra. Hopefully you get to try it out yourself and let us know in the comments if you enjoyed it as well. Read on for more information on this hike:
Sintra owes its name not to its well known historical town, but to its small and yet somehow majestic mountain. The birthplace of Sintra is, in fact, the grand landscape that stretches between its town and the Atlantic Ocean, to the West. We suggest that you follow us on a hike that will take you through one of its least known areas of its green covered northern face - the perfect hike for a hot
sunny day and for those who enjoy the woods. The track is 7.6km long and has an accumulated height of 291m - the map can be viewed below:
The hike starts and ends close to the main entrance of Monserrate's Gardens and Palace and requires that you follow your GPS. Please take note that there are many trails in this area and this is
a non-marked hike. On the opposite side of the road, facing Monserrate's entrance, there is a small car park next to a picnic area and a small waterfall. Take the trail with steps that starts to the right of this waterfall. On the top, you'll be able to see a lake on the left. You will now take the path leading south along the water course that flows in this little valley.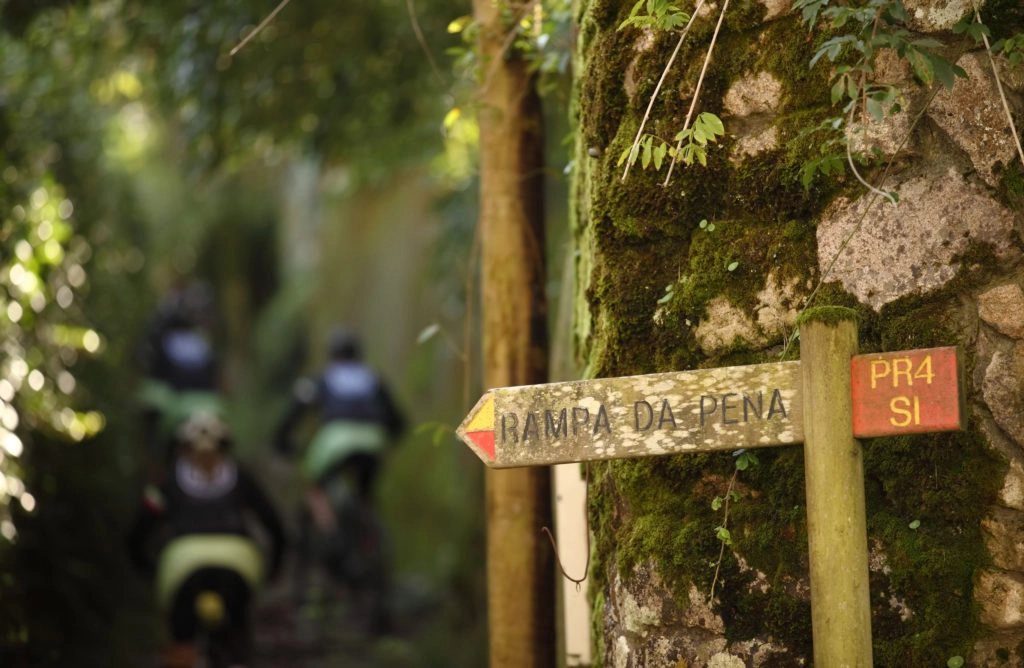 The place is called Tapada de Monserrate and this is the time to appreciate the silence and the biodiversity found in this area. Ferns, oak trees, pine trees and even small animals can be seen here. Some centuries ago this was also a dwelling place for deers, bears and wolves. You might even find some beautiful life-size wooden sculptures of these species along the path - seriously! And pay
attention and don't be afraid if you find the bear. Well now, back to our trail. Following your GPS track, you will notice that you will cross over this water course to immediately start climbing just a little bit in a twisty path which will eventually face South in a more prolonged climb. Don't get wrong in the junctions and at around 1700m along the hike you will enter a narrow and beautiful trail along tall pine trees. Take your time to appreciate the scenery. Going up, this will then take you to a gate that leads to a road. This plateau corresponds to the old mountain ridge separating North from South. You will now take the almost hidden trail to the South of this road.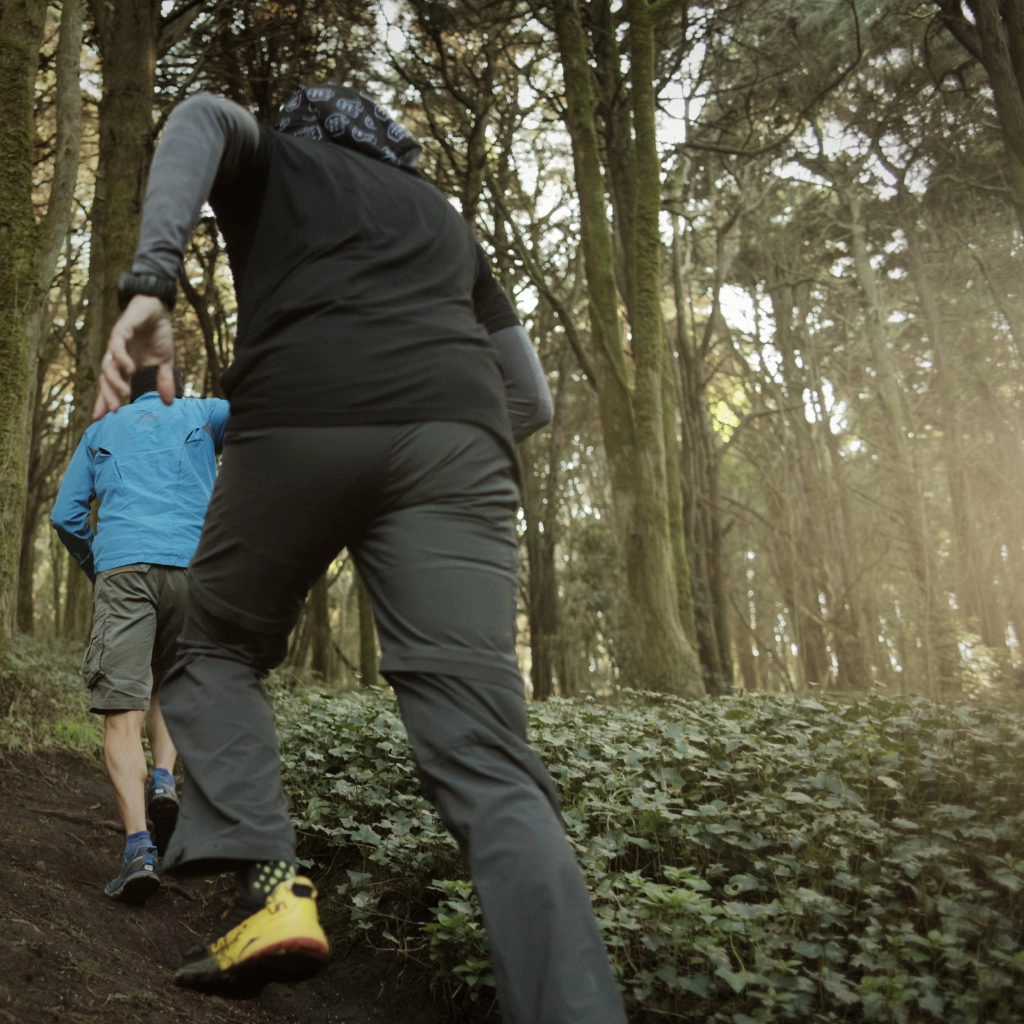 This area now is a bit less forested but following it takes you West, leading to another road – this time a junction. You will have done around 4K by now. From here, take the road leading to Convento dos Capuchos. Down at the entrance to this amazingly humble and yet incomparable XVIth Century Fransciscan convent (which you might decide to visit, by the way – if you have some extra 2 hours, please do so, you won't regret it!) take the wide path leading to the right. There will be a fountain on the right some 100m after the beginning of this path. Following it, take note that the wall on the right is the original 19 th Century enclosure of one of D. Fernando II properties, the so called Artist- King that deeply fell in love with Sintra and built its famous Pena Palace.
Pass the white water reservoir to the left and take the wide trail up to the right. Almost in the beginning, at around 5K, take the narrower trail on the left to then take another narrow left (don't
miss this one) that will lead you to Lake Mosqueiros, another peaceful lake in the midst of the forest. Following again your GPS, you will start climbing South to get to a point where you are turning
around to go northbound again. But this time, downhill. This is one of the most beautiful trail sections of the area. Take your time descending it and enjoy the fresh air and scenery. Also, pay be careful not to slip on some of its steeper sections. This short but amazing descent leads you to a junction. Take the second trail on the right and you will get to the initial lake, close to the picnic area. Just take the same stairs you took in the beginning and you've done the whole trail. Now its time to rest, eat a snack (if you haven't already) and/or meditate on the beauty of what you've experienced.
This is one of my favourite north face hikes in Sintra. Refreshing and and peaceful. Just Live, Love and Hike it!"
See you our on the trails!
- Gustavo Figueiredo
(click here to visit Gustavo's online portfolio! And be sure to click in the link if you want to schedule a half-day private walking tour in Sintra with us!
Also, if you are planning to discover Portugal on foot, check our quick guide about Walking in Portugal, where we talk about when to go and the best regions to go hiking in Portugal, among other insider tips.